Awards
---
Marnie McDougal Award
At our Year-End Water Show we present our Marnie McDougal Award, named after our club founder, to a swimmer voted on by their peers who:
Demonstrates a desire to challenge themselves and continually improve. Who is self-directed, hard working and who gives help and encouragement to other swimmers
Continually exhibits a great attitude and behaviour, both in and outside the pool and shows respect for other competitors, teammates, coaches, parents/volunteers and judges
Demonstrates strong leadership abilities and is a great representative of Nova Artistic Swimming
This year's recipients of the 2023 Marnie McDougal Award are Meghan Hughes & Katja Lemke!

Previous Recipients:
2004 - Jillian Bergsten
2005 - Erin MacAngus
2006 - Xenia Cravetchi
2007 - Meaghan Hipkin
2008 - Xenia Cravetchi
2009 - Heather Savard
2010 - Emily Olsen
2011 - Ruth Maidens
2012 - Hannah Olsen
2013 - Tori Alfaro
2014 - Sarah Tostowaryk
2015 - Anna Embury
2016 - Abigail Grenke
2017 - Asha Nelson
2018 - Abigail Grenke
2019 - Asha Nelson
2021 - Gabrielle King
2022 - Gabrielle King
2023 - Meghan Hughes & Katja Lemke
---
Pearl Spirit Award
The Pearl Spirit Award was created in the 2018/2019 season in honour of Nova's 30th Anniversary. It is awarded to an athlete in our 9-10, 11-12, Novice or Teen Rec categories (training 7 hours or less as a team) who embodies the spirit of Nova Artistic Swimming.
The winner of this award is chosen by our coaches and represents a swimmer who brings a fun and positive outlook to training each day. This athlete is kind and respectful to their fellow swimmers and showcases great sportsmanship within our club and at events.
This year's recipient of the 2023 Pearl Spirit Award is Josie Bardas!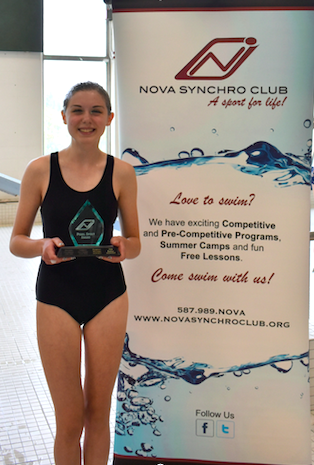 Previous Recipients:
2019 - Benjamin Villeneuve
2021 - Clémence Bal-Astrié
2022 - Pemberley Wolansky
2023 - Josie Bardas
---

Laura Mumme Scholarship
A Message From Laura Mumme
I have been with the Nova Synchro Club as a swimmer, coach and head coach for over 15 years. Artistic swimming and the club continues to not only be a passion in my life, but also has had a strong influence in who I am today. I want to give back to the club to show my appreciation for all the hard work and countless hours the swimmers, coaches and parents contribute. As a swimmer, I was always looking for ways to improve my synchronized swimming knowledge, skills and abilities. Physical, mental, and emotional training play key roles in athlete development. Therefore, I am providing the opportunity for any Nova swimmer to receive additional support to enhance any of those areas.

It is my hope this scholarship will allow Nova swimmers to reflect on their own personal development and allow them the opportunity to achieve their artistic swimming goals.
Purpose
This $500 scholarship fund was developed to recognize the contributions made by Nova swimmers and to support their artistic swimming growth and development.
Eligibility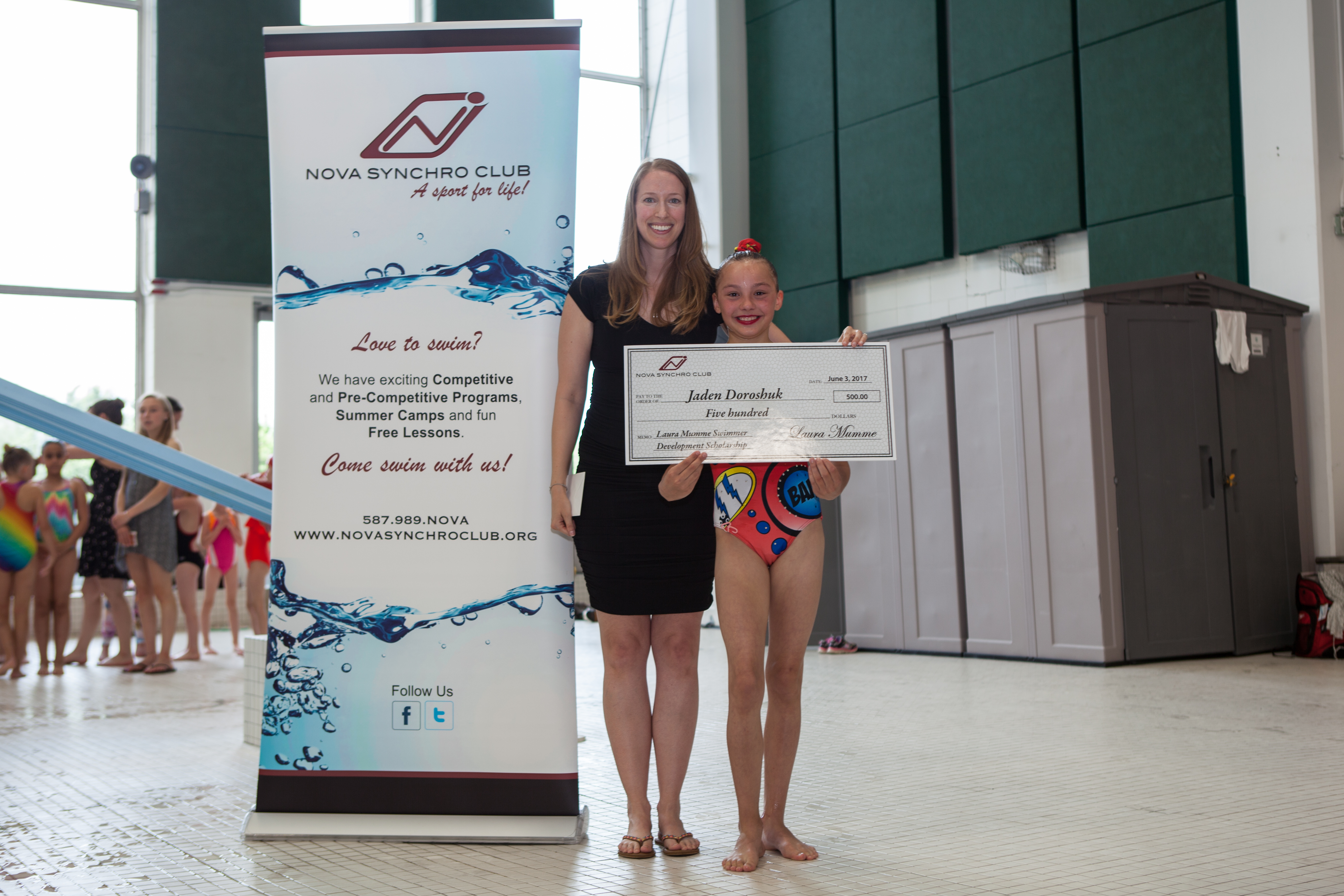 Previous Recipients:
2014 - Bailey Fawcett
2015 - Erika Herle
2016 - Annaleise Walker
2017 - Jaden Doroshuk